Robert has many
happy clients and colleagues.

Just a few testimonials from happy clients
are included below.

If you are happy to be included below, just write
a short email to robert@robertbrain.com.
He will be happy to include it.



Constant Contact
All Star Award Winner

Now for three years running, Robert has won an award for the quality of the email communications with clients and contacts.

See more details here

.



Investing in today's environment

"Hi Robert. I just wanted to thank you for opening my eyes, and showing us the idea of a Stop Loss. By using this approach I have managed to sell my falling stocks, and to sleep peacefully at night without worrying about losing my capital. Thank you very much."


Kevin Dunn (U3A), Vic





Share Market Toolbox



"Robert, your newsletter is top class and so is your website. It is all so well written and organized with all these handy links making learning a pleasure."




Ed Posner



"I find Robert's views and useful information refreshingly different from the somewhat misleading and over-hyped information from some in the industry."


Marty Sammon, Victoria



"Wow!. There's so much stuff in the Toolbox.
Robert, you should be charging a lot more for access to this."


Chris Christidis, Victoria


"I am very impressed with the information in the Toolbox, especially the Information Sheets. It is all very easy to read and understand. It is excellent."


Alan M (Grafton), NSW

Presentations

"Thank you again for the very interesting and lively presentation to the Australian Shareholders Association members. I was very pleasantly surprised to see how interested and absorbed the audience was during the session. Personally I found the presentation very educational and inspiring."


Ana G, Victoria


"Thank you for the generosity you showed in giving out your valuable and hard earned knowledge on trading the markets. You provided many of us with food for thought when it comes to anticipating bull/bear markets and ways to monitor the market with greater confidence."


Trisha R, Canberra



"I was at the U3A to listen to your talk on the stock market today. It was a really good talk, thank you."


Raymond C, Victoria

Weekly Market Analysis newsletters



"Hi Robert, Happy New Year to you and thanks for another year of your Market Updates.When it comes to investing for me, I find that I need to keep things simple or be overwhelmed by excess market information. Your watch list provides information simply and directly."




Mark Tweg, Vic



"Always read your weekly newsletters with great interest and would class myself as a fan and most definitely appreciate the time and effort you take to compile the weekly summation."


Tony Wharton, NSW



"I find the members section of the weekly review of the market excellent."


Chandra, Victoria



"

I always look forward to Robert's comments each week, and consider it a valuable piece of the jig-saw puzzle. I like the format - relatively short, clear and precise.

"


Keith Mundy, Victoria

eBook PDF Articles (tips and updates monthly)

Great ebook article/synopsis on Nicolas Darvas about his strategies and his book "How I Made $2,000,000 in the Stock Market". Everyone should read it.


Peter Overton, Victoria


"I have found Robert's monthly eNewsletter Articles to be a very valuable resource, both in giving a general overview and easy to understand advice on share trading, as well as more indepth explanations on the most common indicators used. There are also great articles on how to use the BullCharts software, including good examples of scans, how to use the charts and ways to organise your watchlists. Great work Robert!"


Sue Nolan, Victoria

BullCharts software support and the User Group

"I enjoyed the information, the sharing, and being able to participate with other like-minded people (in the remote users' webinar). And thanks for putting in the effort Robert."


Peter B, Sydney


"Thank you, Robert, for your help with BullCharts. We especially appreciate learning the detailed steps in the Bull Scan set up. (As they say '…give a man a fish and…, or teach him how to fish…'). Thanks again."


John & Linda Beattie, Victoria

Seminars and Workshops

"The course [Blue Chip Price Chart Secrets] was good, the information helpful. Robert was knowledgeable and the handouts helpful - well done and well presented with wide knowledge."


(anon - Sept 2011), Victoria.


"Very informative session. Lots of useful information to take on board."


Val, Victoria.


"This seminar [Blue Chip Price Chart Secrets] brings together the many views and techniques which you could get only by reading many books and visiting many web sites."


Mike Roberg, Victoria.


"I enjoyed the session and am keen to do more."


Jane G, Victoria.


"This seminar [Blue Chip Price Chart Secrets] was very useful as a basis for me to learn more about Technical Analysis."


Silas H, Victoria


"A fantastic insight into Technical Analysis (charting)."


Scott M, Victoria.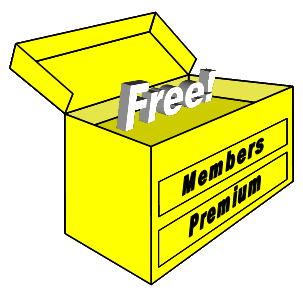 Brainy's Share Market Toolbox
contains a lot of useful tools to help you tackle the market.
If you need something that isn't here, feel free to
contact us
to talk about the possibilities.
Robert can be available for lengthy discussions or information sessions about these things
for a very reasonable fee.